Inland Haven is specifically designed to provide full time and day-care services for the memory impaired.
The Inland Haven facility features a circular walking path, life stations, secure outdoor areas and a security system to prevent wandering. The resident rooms are private rooms with private bathrooms. This provides the residents their own space and privacy. Residents are allowed to bring in their personal belongings, furniture, and decorations, which assist in developing a familiar environment. Semi-Private rooms are also available.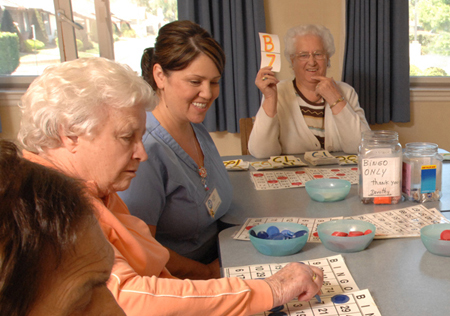 Residents are encouraged to live as independently as possible. A base level of care is provided which includes three meals, snacks, activities, medication pass, observation, monitoring of and response to call lights, utilities (except phone), showers/bathing, toileting schedules, weekly housekeeping, supply and launder of bed linens. Additional levels of care are available, including personal laundry, medical treatments, incontinence care, wheelchair assistance, hospice, beauty shop, and transportation.
The meal service is excellent and includes provision for special diets and choice of alternatives and snacks are available throughout the day.
All staff members receive special training in the care of residents with dementia and in the administration of medications. This training includes how to handle difficult behaviors such as wandering and frustration. All nursing staff is CNAs and a LVN oversees the Inland Haven.
Inland Haven is also staffed with an Activities Director who contributes important aspects of maintaining residents' abilities by providing an activity program specifically designed to meet the needs of residents with memory impairments. Common everyday tasks promote daily living skills, and residents are encouraged to participate as fully as they can. This promotes the resident's dignity and respect while maintaining their individuality.