Skilled nursing offers 24 hour nursing care and offers short term rehab and long term care services. Our primary mission is to provide individualized care that provides dignity and respect for the resident. Each resident and/or responsible party is involved in developing the individualized plan of care. Our goal is to provide care and services in the way each resident desires.
In order to provide individualized care we have assembled a team of qualified professionals starting with our nursing staff of R.N.s, L.V.N.s, and C.N.A.s. Other departments include dietary, activities, social services, maintenance, housekeeping, laundry, and administration. Each employee in every department is carefully screened and trained and is provided continuing education.
Also, on staff for consultation is our Medical Director, Registered Dietician, Pharmacist, and Psychiatrist. Pharmacy, laboratory, radiology, and beautician services are available on site. Residents are followed by their own attending physician who visit at least once per month.
Our therapy services include physical therapy, occupational therapy, and speech therapy. Our therapy services are thorough, individually personalized, and consistent with our desire to see all of our residents reach their maximum potential and independence in order to reside in the lowest level of care possible.
Care is provided in private or semi-private rooms.
Inland Christian Home is Medicare and Medi-Cal Certified. We are surveyed one time a year by the Department of Public Health and are given a Medicare Rating, from 1-5 stars. This rating can be viewed at the Nursing Home Compare website.
Inland Christian Home respects our residents right to privacy and our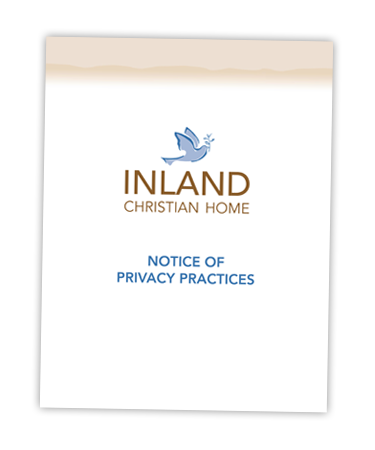 Notice of Privacy Practices can be viewed here or by clicking the image: