DAVID STIENSTRA, EXECUTIVE DIRECTOR
David began his career with Inland Christian Home in 1985. He became the Executive Director in 1990 after previous roles as Accountant, Director of Finance, and Administrator. David holds a BA degree in business administration from Calvin College and an MBA from the University of La Verne. He is also a licensed skilled nursing and assisted living administrator and reports directly to the board of directors concerning all of Inland Christian Home's programs and activities. He is a board member of Leading Age California and Ontario Youth Activities League as well as an active member of Kiwanis Club of Chino and Crosspoint Church. David feels blessed to work at Inland Christian Home and glorify God every day through his work. "Meeting residents, hearing about their life experiences, and having them share their wisdom is the best part about working at Inland."
MARY WOLFF, CHIEF OPERATIONS OFFICER
Mary began working at Inland Christian Home in June of 2007 as the Director of Admissions/Marketing. In 2009 she was appointed as the licensed Administrator of Skilled Nursing and Assisted Living. She attended the University of La Verne and holds a Bachelor of Science in Business Administration as well as an MBA. Mary has the responsibility and pleasure of running the day-to-day operations of Inland Christian Home. She strives to advance the mission that the founders set for Inland over thirty years ago and that is to provide quality care in a Christ-centered environment. The best part of working at Inland for her is the interaction she has with all the wonderful residents and their families.
FINA UZOUKWU, DIRECTOR OF NURSING
Bio coming soon!
IMELDA REYES, SOCIAL SERVICES DIRECTOR
Bio coming soon!
JONATHAN BASA, DIRECTOR OF STAFF DEVELOPMENT
Jonathan Basa has been a licensed nurse for 12 years. He graduated from Summit Career College and began his nursing career working with residents with behavioral conditions and continued working with patients with other complex diagnoses. Jonathan has worked 8 years as a Director of Staff Development (DSD) and Infection Control Nurse (IP) at various nursing facilities and truly has a heart for seniors. Working for Inland Christian Home for the past 2 years has been a blessing for Jonathan. He appreciates that the community's focus is to provide quality care for the residents in a safe and loving environment. Jonathan is grateful to be a part of Inland Christian Home and considers it a privilege to work for this community.
DENISE PEREZ, DIRECTOR OF HAVEN
Denise began working at Inland Christian Home in July of 2014. She graduated at the top of her class from Chaffey College and received her LVN license. She started her career as a medical technician for the Haven for 5 years. She has also worked as the Assistant Director of Staff Development for 6 months in our skilled nursing facility. In 2019, Denise transitioned to the floor as a nurse at Inland Christian Home while also working as an acute pediatric nurse for Whittier Medical Center. Denise is currently working towards a degree in gerontology, a field about which she is very passionate. Her desire to selflessly serve our residents and make everyone feel cared for is what makes her a wonderful asset to Inland Christian Home.
ALEX PORTILLO, DIRECTOR OF ASSISTED LIVING
Bio coming soon!
LISA NAUDON, DIRECTOR OF DIETARY SERVICES
Lisa began her career in the healthcare industry in 2001. She graduated from the Universal Technology of California as a CNA/Home Health Aid where she eventually became an RNA. After working as a psych tech for a geriatric psych facility, she was offered a grant to continue her education at Long Beach City College and became a Dietetic Service Supervisor. She then became a consultant, specializing in the planning of corrections of policy and procedures for many SNF facilities throughout Southern California. Lisa also started her own catering business which fueled many of the improvements and expansion of Inland Christian Home's catering services as well as the creation of the Inland Café. Lisa desires to bring joy and smiles to the residents, staff and family members through deliciously well-balanced and healthy meals. Her passion for serving others goes beyond the kitchen and is the foundation of her fulfillment working for Inland Christian Home.
JOE WHITFORD, DIRECTOR OF PLANT OPERATIONS
Joe Whitford joined Inland Christian Home's team in August of 2012 as the Director of Plant Operations, where he is in charge of overseeing the day-to-day operations of the Maintenance, Housekeeping, and Security Departments. Joe has been working in property management/construction for the majority of his adult life and enjoys daily interaction with the residents and their families.
Our Qualifications
Inland Christian Home is licensed as a Continuing Care Retirement Community (CCRC) by the Department of Social Services. A CCRC must follow specific standards set by the California Department of Social Services (CDSS), providing our residents additional assurance that they are living in a well-managed community. To view our CCRC Annual Report, click here.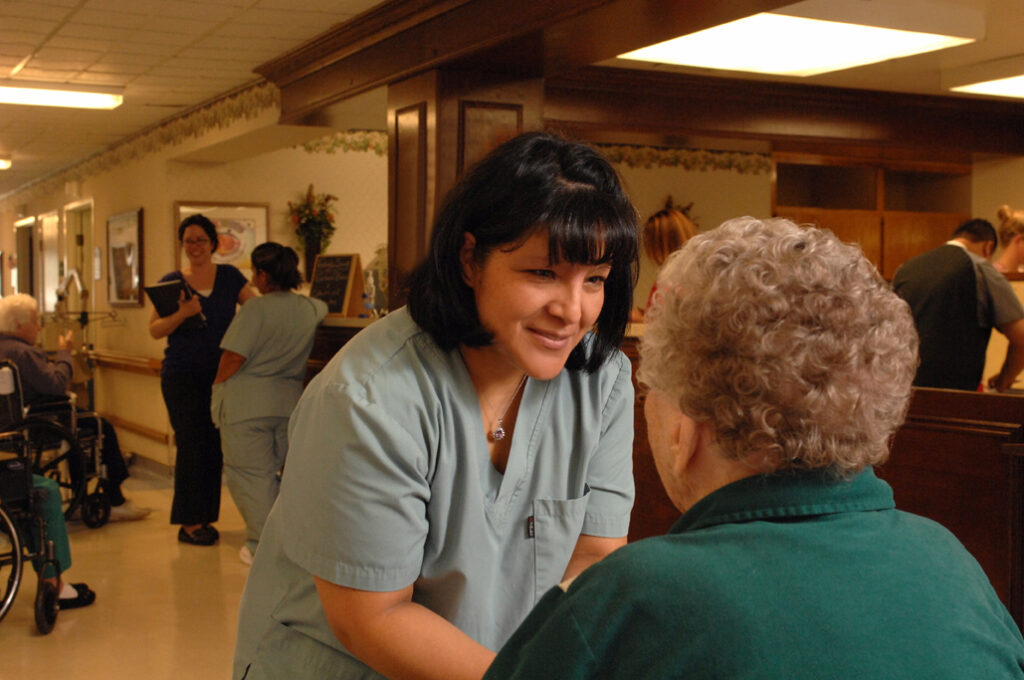 We are more than just a place to live, we are a place people are happy to call home.
Are you interested in taking a tour of Inland Christian Home? Please fill out the form and a member of our team will be in touch shortly.